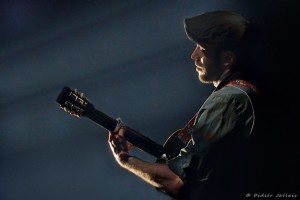 Somewhere between musical wanderer and uncertified ethnomusicologist dwells Cory Seznec and his unique world. A French-American musician based in Paris, Cory began learning fingerstyle guitar and clawhammer banjo during his adolescence in the US. This led to numerous travels and encounters that helped develop his sound. The discovery of African fingerstyle techniques coupled with trips to different African countries changed everything. His style became more and more syncopated, polyrhythmic, and cross-pollinated, and his approach less and less academic.
A founding member of Groanbox and Seznec Bros, Cory also helped create the Sawmill Sessions, an Old-Time and Bluegrass collective in Paris. A resident of Addis Ababa, Ethiopia for three and a half years, he was active in two bands MistO-MistO and Damakase, which mix Ethiopian music with other African styles. In July 2016, Cory embarked on a trip with filmmaker Gonzalo Guajardo to Luhya country in western Kenya to make a documentary on some of the few remaining omutibo style guitar players. In October 2016, Cory recorded a video lesson of some of his arrangements of New Orleans-infused fingerstyle guitar for Stefan Grossman's Guitar Workshop (released early 2017). To date he has released two albums: Beauty In The Dirt (2014) and Backroad Carnival (2017), both of which were greeted with acclaim in the UK and French press.  Check out his music blog, Cocoringo's Circadian Sounds.
Version française :
Entre vieux baroudeur-troubadour et pseudo-ethno-musicologue, tel pourrait se définir le musicien Cory Seznec et son unique univers. Pour ce franco-américain, tout débute pendant son adolescence aux Etats-Unis avec la découverte de la guitare "fingerstyle" et du banjo "clawhammer". Cette exploration se poursuit par des voyages, des rencontres, stages, et cours avec de grands guitaristes des milieux du country blues, du ragtime, de la folk, ainsi qu'avec des banjoistes du style "old-time". En parallèle, la découverte de différentes techniques de guitare africaine et quelques voyages importants au continent feront tout basculer. Son jeu devient de plus en plus syncopé, poly-rythmé, et métissé, et son approche de moins en moins scolaire.
Membre fondateur des groupes Groanbox et Seznec Bros, il co-crée les Sawmill Sessions, un collectif de musiques Old-Time et Bluegrass à Paris. Un résident d'Addis Abéba, Ethiopie pendant trois ans et demi, il rejoint deux formations MistO-MistO and Damakase, qui mélangent musiques éthiopiennes à d'autres styles africains. En juillet 2016, il part au Kenya avec réalisateur Gonzalo Guajardo à la recherche des derniers guitaristes Luhya du style omutibo afin de créer un documentaire.  En octobre 2016, Cory enregistre une vidéo-méthode de quelques uns de ses arrangements de guitare fingerstyle sauce nouvelle Orléans pour Stefan Grossman's Guitar Workshop (parution début 2017). Il a sorti deux albums : Beauty In The Dirt (2014) et Backroad Carnival (2017), tous les deux applaudit par les médias britanniques et français.  Il tient un blog sur la musique, intitulé Cocoringo's Circadian Sounds.